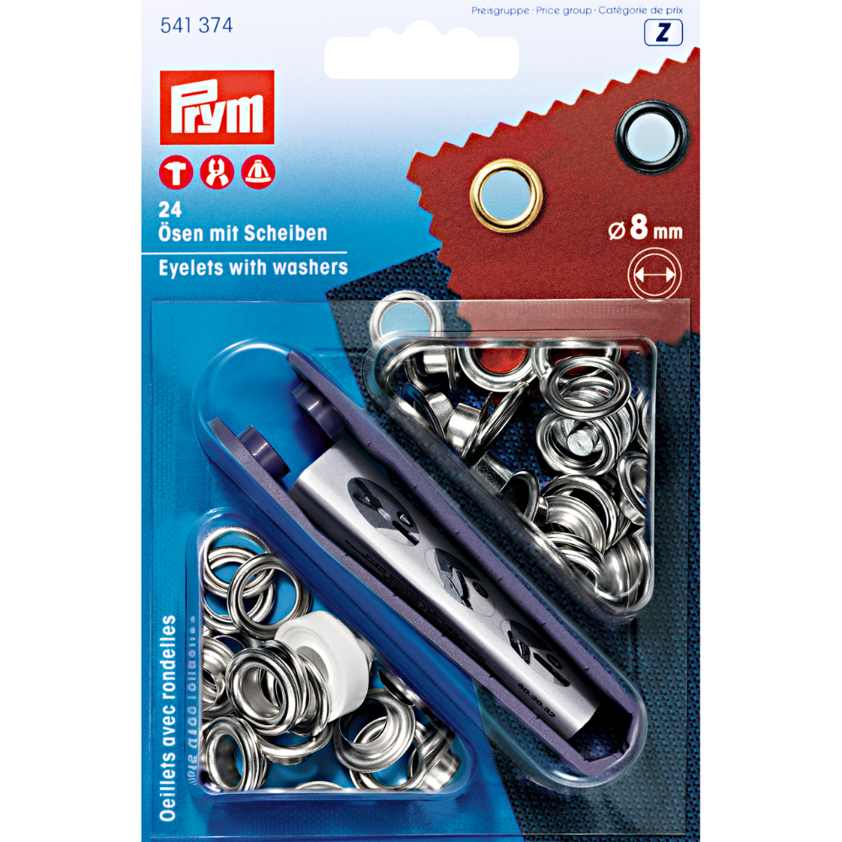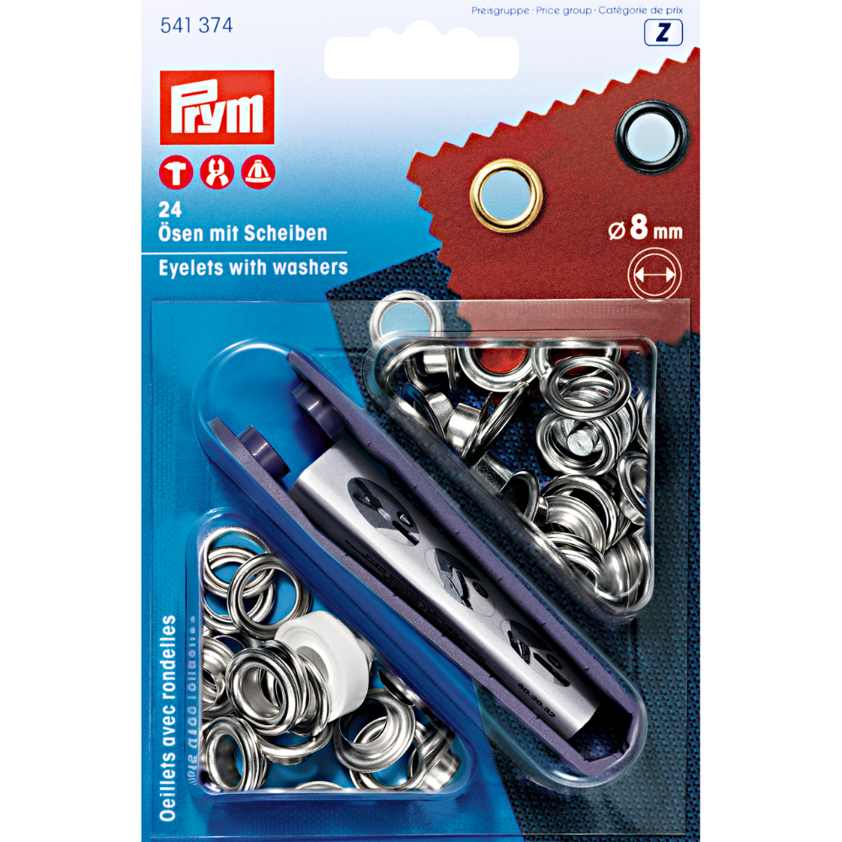 Eyelets and washers 8mm - Eyelets and washers are used to reinforce hole via shearing. There are various sizes of eyelets that can be applied on to shoes, purse straps, curtains, bags, backpack, belts, pet collars, leather jackets, caps, dress lacing, DIY tools, etc. giving sturdy and funky look to your garments.

These round hole eyelets come with washers to give smooth finish look and are used to fasten holes on any leather or fabric or canvas material to prevent tearing and providing strength to it. We provide genuine quality, rust free eyelets for prolong use that are excellent for decoration, crafting, leather products, book binding, lacing, fittings, etc. Quick, easy & fast fix: By punching through hand press tool or pliers; giving shiny & eye catchy look of your garments.

A perfect accessory for fashion grooming products like corsets, wedding gowns, jackets, purses or embellishing shoes, jeans pocket holes, boot lacing, cross ankle straps or enhancing sneakers. Fancy gold eyelets are also relevant for vinyl banners, curtains, tarpaulins, etc. or making holes onto cardboard items for wall hangings.

Weight : 0.06kg


Size : 15cm x 10cm x 3cm


Due to the different sizes and weights of some of our items, our delivery charges are calculated based on weight as below:

<0.5kg: £1.99
0.5kg - 1kg: £3.99
1kg - 2kg: £5.99
2kg - 3kg: £9.99
3kg - 4kg: £11.99
4kg - 5kg: £13.99
5kg - 6kg: £15.99
6kg - 7kg: £17.99
7kg - 8kg: £19.99
8kg - 9kg: £21.99
9kg - 10kg: £22.99

Products are usually despatched within 48 hours and delivered by Royal Mail or other suitable courier, we will advise you if a product is to be delayed for any reason.

We offer a 14 day return policy from the day you receive your order under the following conditions.

Refunds and exchanges may only be made within 14 days of receiving the goods, you must notify us in writing of any damages, faults or other issues within 3 day of receiving the goods.

SKU: 1263